Full 1
ABOUT US
We are different. In our studio, the destinies of different people and professions are intertwined.
There are engineers, artists, musicians and teachers among us , but we all have one thing in
common – a love for computer games and films. We all came to the world of game development in
different ways and gained diverse life experiences. And that's great. Now we are a large and friendly
professional team that wants to implement complex and ambitious projects.
In addition to professional skills, our knowledge in other areas allows us to look at any project
from different angles and reveal its potential more deeply. We would like to thank our partners for
entrusting us with the implementation of their projects. And also a special thanks for the support to
our community, which helps to make our projects even better.

Script writing
Concept development of characters and locations
Storyboard, 2D pre-animation for movies
Development of plots and internal game mechanics
for various platforms (IOS, Android, Windows,Unity,Unreal,Oculust Rift , HTC VIVE)
Autodesk Maya, 3DS Max, ZBrush, Terragen, Vue,
3D Coat, UVLayout, TopoGun, Mudbox, Substance
PainterVray, Renderman, Keyshot Photoshop, Spine, Corel
Draw, Illustrator, Corel Painter
2D and 3D
Art Modeling, sculpting, UV mapping,
texturing 2D and 3D Animation
Autodesk Maya, 3DS Max, ZBrush, Terragen, Vue,
3D Coat, UVLayout, TopoGun, Mudbox, Substance
PainterVray, Renderman, Keyshot Photoshop, Spine, Corel
Draw, Illustrator, Corel Painter
RealFlow, FumeFX, After Effects, Maya Phoenix, Maya
Bifrost, Maya Miarmy
Visual Studio, Oracle VM VirtualBox, SharpDevelop,
GIMP, MonoDevelop, PhpStorm
Video processing, product assembly
Nuke, After Effects, Sony Vegas, Adobe Premiere Pro
related materials,
artbooks, presentations
Corel Draw, Illustrator, Corel Painter, Adobe Photoshop,
Adobe InDesign
VR content creation and
development
3D modeling, animation,
engine programming
Unity, concept art, sculpting
Autodesk Maya, ZBrush, Photoshop, Concept art
Tracery of Fate is a fascinating VR trip in an incredible dark
fantasy setting. The world of Alfira is almost dead, but it has
own story, which unfolds for you with every new step. Solve
mysteries of the world on the edge of destruction, which is
so beautiful in its apocalyptic agony. Show your ingenuity in
solving puzzles and avoiding traps, use your agility and good
reaction to defeat evil when you face it. Improve various skills
adjusting your character to your combat style, develop teamwork
in a cooperative game and save Alfira's world – since you are the
last hope. Watch on youtube
See the dragon at arm's length, ride on its back, feel
the speed of the flight and hear the flapping of dragon's
wings! All these sensations can become real in Dragon
VR game. Watch on youtube
You are playing as a team! Each team has four people. The
goal of each team is to defend the tower. Multiplayer shooter –
twelve people max
Battles are held in the PVP-shooter from the first person.
Teams receive points for destroying the enemy, capturing and
holding key points.Watch on youtube
Take a walk with your friedns in the impressive prehistoric park
recreated from scientific data. Multiple VR headset connection is
supported.
With your own eyes see the giants of the past, revived by the modern
technologies of Virtual Reality and feed them by your own hands
Hear interesting historical references, voiced in several languages
just for you. Immerse yourself in the indescribable atmosphere
created by sounds that are unusual for the ear of a modern person
Game session 10 minutes. Up to 4 people participate at the
same time. Players are in an old abandoned house that used to
be a hospital and they need to get out of there by solving various
puzzles. In this project, we participated in the creation of special
effects, interface, modeling and texturing
CardiAid Resuscitation VR
This simulator makes it possible to be trained and correctly
use the automatic defibrillator CardiAid which may help you
save someone's life in a critical situation.Take care of yourself
and your family
This software package is designed for remote multi-user training using the capabilities of Virtual Reality. Two
main roles are realized: Teacher and Student. Supports up
to 12 simultaneous student connections in one class. Twoway voice communication is integrated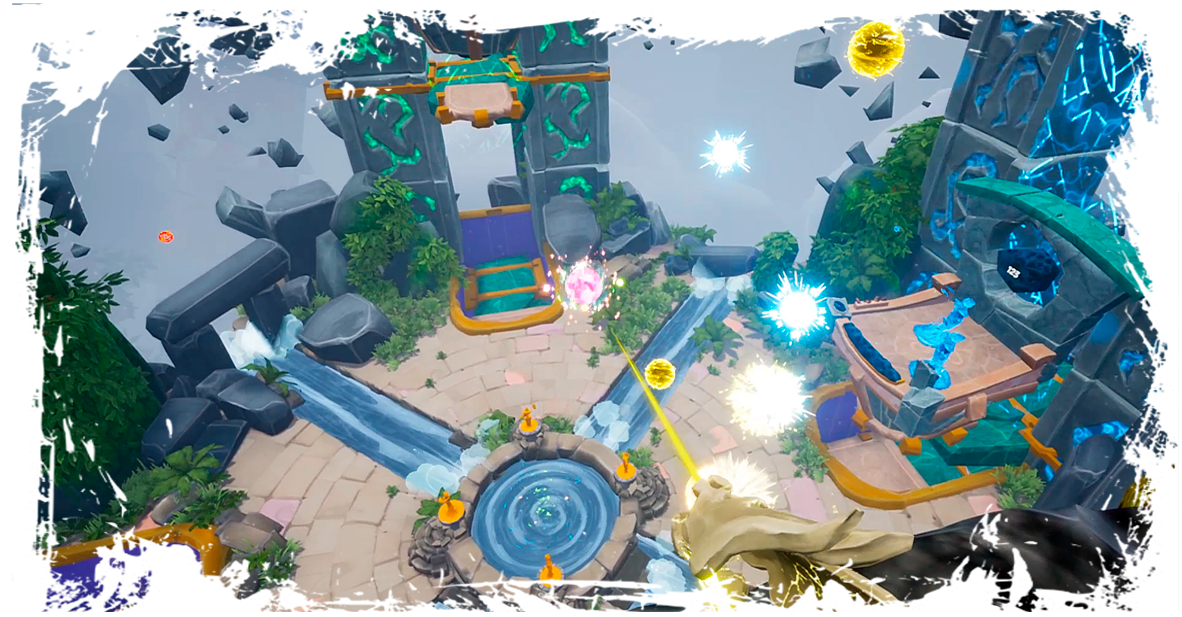 Take up to 4 friends and engage in a "King of the Hill"-style
battle in a land of magical elementals. Fuel your platform with
the magic of spheres, shoot your way through the contest of aim
and precision and bring yourself to the very top